Cal soup perfect eggs and caviar de Neuvic scent hazelnut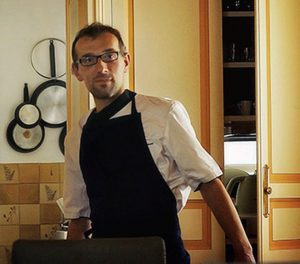 Par Benoît Cohen – Le relais de la Ganache
1

Bake eggs with a thermoplunger at 64°during 45/60 min.

2

Prepared the cauliflower and wash it. Melt the butter and put the leek , then add the flour and the chicken stock. Then put the cauliflower, season and bring to boil. Cook slowly by moving during 35/40 min. Mix the whole.

3

Put the velouté with the cream and cook without boiling, add egg yolks.

4

Dressing : Put an egg in a soup bowl, pour the velouté, add a few drop of hazelnut oil.
Benoît Cohen - Le relais de la Ganache
Recommandé par le Collège culinaire de France - Restaurant de qualité
Présentation
C'est dans un cadre intimiste (un quinzaine de couverts) et sincère que Benoît vous propose de partager son univers culinaire articulé autour de produits locaux (Truite de la Beauronne, Esturgeon de Neuvic, Veau de la Vallée, Agneau bio de Montrem, Canard du Périgord) à travers un Menu Auberge évoluant au gré du marché et des saisons.
Notre partenariat en quelques mots