Risotto at caviar butter of Neuvic, Bellota and hazelnuts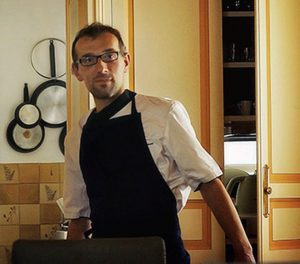 Par Benoît Cohen – Le relais de la Ganache
1

Rinse the rice with water and let for 1 hour. In a pan cook slowly a little oil, add the rice and cook during 2 min stirring frequently.

2

Put the Chardonnay and let absorb, then repeat the same action with the bouillon, stir constantly. Check the rice cooking and add the cream.

3

Off the heat add the parmesan cheese and the caviar butter from Neuvic. Raise the plate with some hazelnuts and a little hazelnut oil, and Bellota ham.
Benoît Cohen - Le relais de la Ganache
Recommandé par le Collège culinaire de France - Restaurant de qualité
Présentation
C'est dans un cadre intimiste (un quinzaine de couverts) et sincère que Benoît vous propose de partager son univers culinaire articulé autour de produits locaux (Truite de la Beauronne, Esturgeon de Neuvic, Veau de la Vallée, Agneau bio de Montrem, Canard du Périgord) à travers un Menu Auberge évoluant au gré du marché et des saisons.
Notre partenariat en quelques mots